Well, its definitely beginning for me: Bike Collecting Mania.  For the past two weeks I've been visiting craigslist and ebay at what seems like hourly (or less) intervals to look for bikes, frames, parts, shoes, or whatever.  I go between those sites, and googling/Sheldon Brown-ing the bikes/components in question to determine what's a good bargain or not. I've checked thrift stores too but came up empty handed there. Its not healthy, man.  I know I have to cool it, but on the other hand I still need a bike to replace my aluminum beater, and I need to mess around with bike mechanics to get more practice in.  When I catch myself over-doing the bike hunting, I think it's the materialism of it that irks me the most — the brand names, style, thinking how satisfying a purchase would make me feel, then the worry over possible buyer's remorse — and I think, Whoa, this is not the kind of person I want to be; this is not the reason I want to get into mechanics.
HOWEVER, with all that said, I have a TON of satisfaction from from my recent bike buy, courtesy of ebay.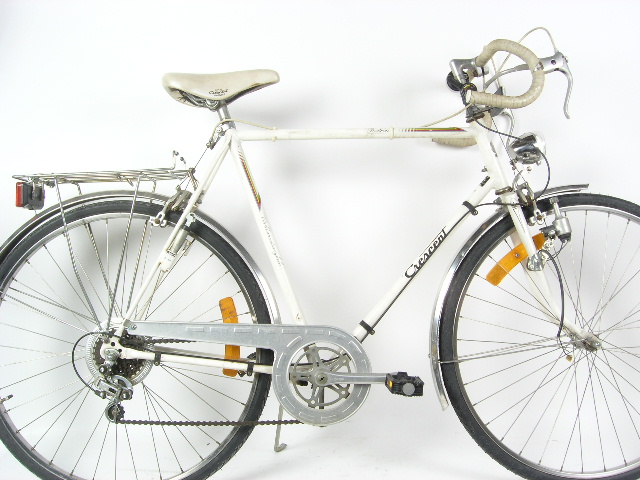 best 25 bucks i've spent in a long time.  It's an early 80's Swedish-made Crescent Världsmästarcykeln.  A white city cruiser sporting full chrome fenders, dymano lighting, chain guard, drop bars. Finnish Nokian tires and Dunlop-valved tubes (uh, anybody seen a pump for that?)  a killer bell too, oh and a kickstand of course.  I'm really into the Dutch/European style bikes at the moment, I have been ever since I traveled to some European countries this past summer.   Half of my travel photos were of bikes. I know fixies are the hip thing right now but this here is a really sensible bike.  (However it can be less sensible for use in a US city where you want to maintain speed and maneuver well through traffic.  I don't really feel like getting into the whole ' i wish out cities were a lot more like Amsterdam and Copenhagen' thing, but suffice to say those 60 year old, 60 pound Dutch bikes are perfect for some places and uses, and not so much for others.)   To my luck and surprise, though, this bike wasnt nearly as heavy as I thought it would be, and it was in awesome cosmetic condition.
It was being sold 'as is' and I was planning a thorough overhaul before riding it around, but as it happened, I was running late and needed to catch the train back to South Station, so without so much as pinching the tires to gauge pressure, I threw one leg over  and hauled ass into the night across Providence  (from where I picked up the bike locally and avoided s/h charges).  The bike performed beautifully! shifted, braked, didnt get me killed, what more could i ask for?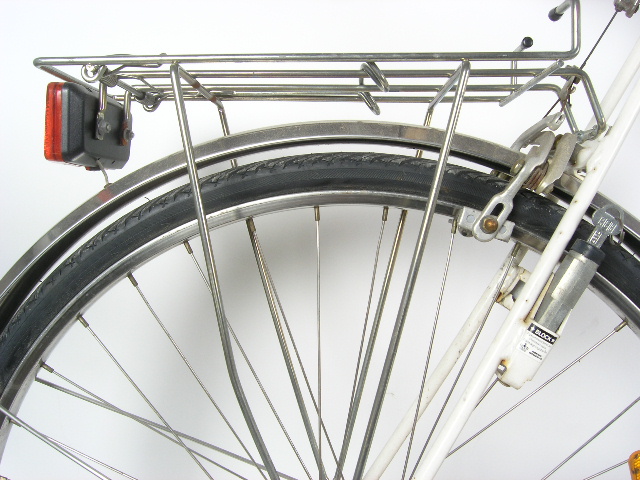 That right there is an integrated frame lock for the rear triangle.  Handy.  In all I'm really looking forward to cleaning and overhauling this bike.  Naturally it's too small for me, but I guess I'm used to that by now.  for example here was  my summer ride, while I was in Germany (and also another example of my idea of a cool bike.)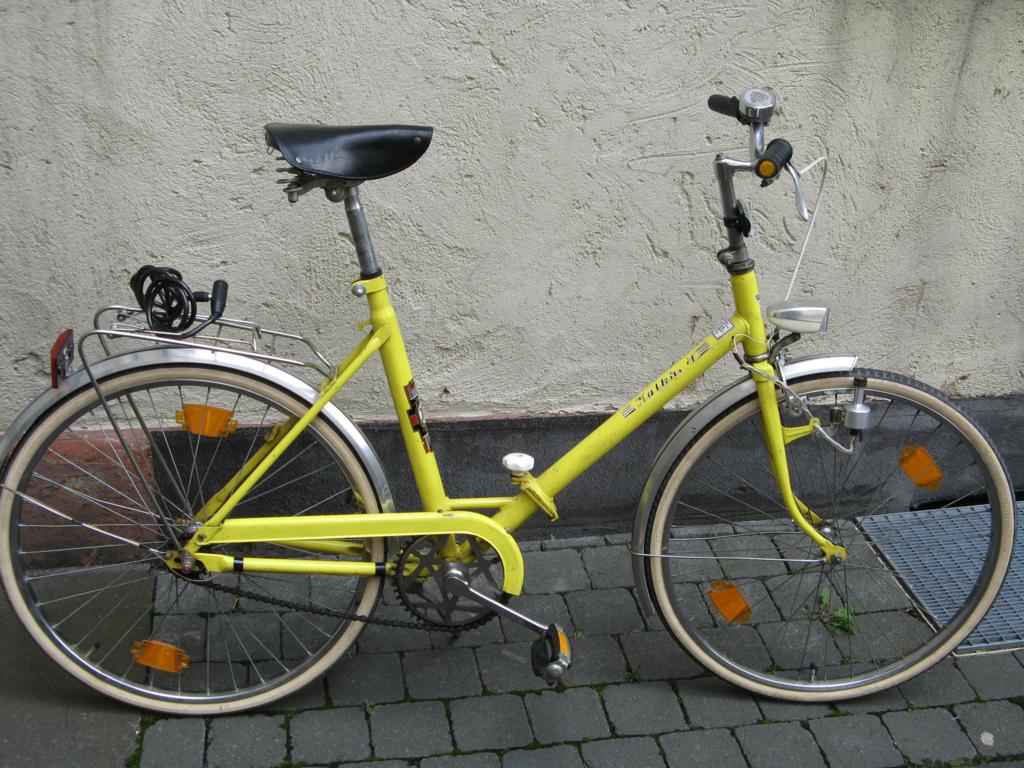 made by Kalkhoff, in 'West Germany'.  hands down the best 35 Euro I spent while over there. I could not get the grin off my face when I rode it. and yeah it separated into two.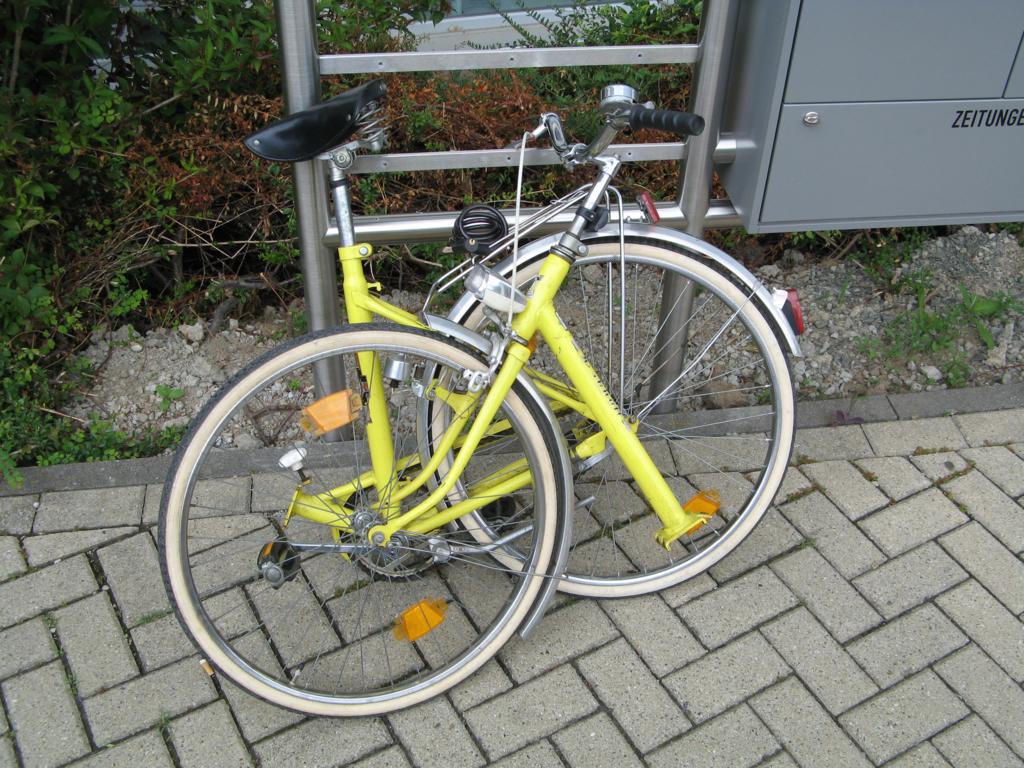 Back here in the States I'm in the middle of doing resume drops at area bike shops.   After scoping out just about every shop in the Boston/Cambridge/Somerville I see that some places would suit me a lot better than others.  I guess i should go into the details since I dont know where I'll end up, but it's mostly about shop ambiance and the kind of bikes and merch they sell.  My number one priority is to get a bike mechanic job, but on the other hand I am sort of hesitant to drop off a resume at certain places that I'm not that excited about.  I think I'll end up doing resume/application drops in rounds, starting with my first choices and hoping they'll call me back before I get around to applying at the remaining shops.  I'm well aware I might end up being wrong about where's best for me. Because, what do I know?